Valentine's Day shouldn't be about spending a lot of money just to show somebody how much you love them. Everyone will love to have something cute that they got from their loved one. Nothing says "I love you" more than do-it-yourself present.

Princess and Super Hero Peg Doll Valentines
Everybody can do this and it's a really cool present. You just need to paint Wood Peg Dolls into a superhero or a princess and make a funny message for your loved one. I found a great tutorial for it, so no excuses that you don't have any time to make a present, this one is perfect fot last minute present idea.
[via bugger-dixonline]

His & Her Mug
We all have plain white mugs sitting somewhere in our kitchens, being anything but special. Here's a tutorial to make them special. You'll just need a marker pen and some imagination. Draw or write anything you want and after you're done, bake it for 30 minutes in the owen before washing. You can do this to any a piece of tableware you find.
[via A Beautiful Mess]

Make Your Own Coffee Syrup
If your loved one is a big coffee lover, he/she will absolutely love this. Making a syrup isn't hard, just follow the recipe. You can always find more recipes online, if you want some other flavor. After you're done, add decorative labels or ribbons to the bottles to make them extra special.
[via A Beautiful Mess]

Strawberry Vodka & Pink Vanilla Sugar
Here's an awesome adult gift idea – an alcohol drink (because you can't go wrong with it :D). Make a cute Martini gift set - Strawberry Infused Vodka and Pink Vanilla Sugar. I tried this recipe and believe me, once you make this, it won't be just one time thing, it's delicious.
[via My Baking Addiction]

Relationship Timeline Maps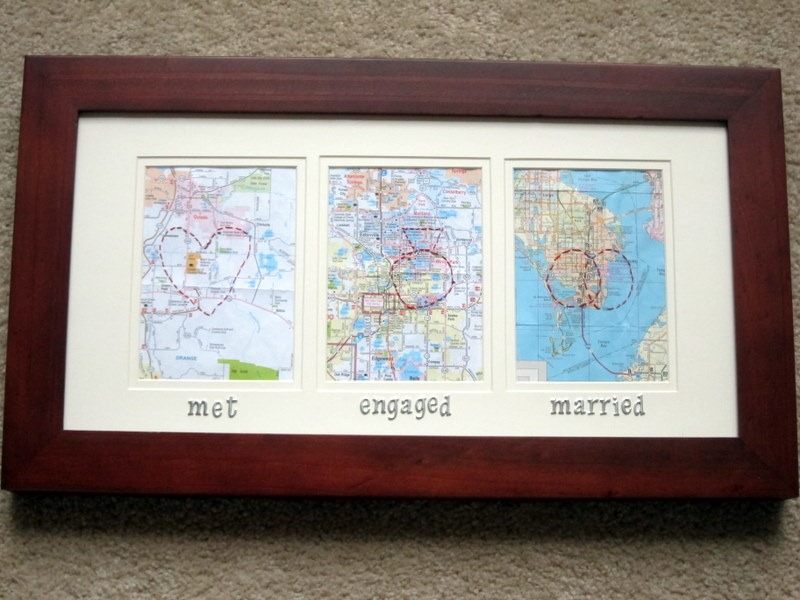 This one is my absolute favorite present. So much love inside of something this simple. Print out maps of the places that have a special meaning for your relationship, like the place you met, got engaged and married. Mark the exact place where that happened and put it in a frame. This isn't anything too crafty, but it will mean the world to your special someone.
[via Peanut Butter Fingers]
Last minute I-have-no-present idea
If you didn't make/buy a present for your loved one, you shouldn't feel bad. Make him/her a dinner, light up some candles, put some nice music on and spend a quiet romantic evening with your special someone. Or pop a bottle of wine and put their favorite movie on. Just spend some time alone with them and enjoy it. Valentine's Day shouldn't be about gifts, it's about the person you love.